First off, I would like to thank everyone that wished me well on my exam. I passed it by the skin of my teeth but at least I passed. I was so happy to have the past 6 days off of school. Tomorrow I start the summer session of school and I opened up the pacing schedule for 1 of my 3 classes and all I have to say is Oh my gosh!! Well, it was nice knowing you summer. :(
I do have some great news, my daughter is having her delayed Sweet 16 party in June. She turned 16 in January but we decided that due to expenses and me starting nursing school at the time that it would be easier to have it in June, in the backyard.
We started our planning yesterday. Hot pink and zebra stripes are her favorite and will be vomited all over the backyard. Believe it or not, a lot of my decor and party ideas are from fellow bloggers.
We have decided to use sting lights to light the backyard. My inspiration comes from House of Whimsy. M.L.'s daughter had an outdoor wedding and used string lights and I think it looks fabulous. You must check out M.L.'s
blog
. She is super talented!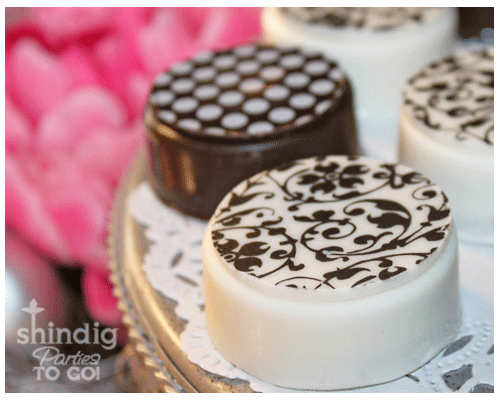 A really cute idea came from
Shindig Parties to go
. We will be using
hot pink
white chocolate for our Oreos. Get it
hot pink
, black and white (zebra stripes.) LOL.
I will be making her cake. I will be combining two cakes. The top and bottom layer will have this ruffle look, while the middle layer will have the zebra layer. No I will not be using the bow on top of the cake.
My husband is even getting into the decor with a candle holder for her 16 candles. I can't wait until he starts.
Thinking this would be nice as a center piece? Not the big R. I'll use fake candles of course. Her name is Samantha, but we will cut it down to Sam or not even use any words.
My daughter is super excited and she really deserves a great party. She is a great student and daughter. I hope it all turns out fabulous!
So between books and studying, I'll be into to fabric, glitter and zebra stripes. I can't wait to share. Also, I'm looking for some ideas for party favors. Any ideas are welcome as always!
I'll share more as I work on it. Have a great week!
Jess